Sample Units
A number of samples have been placed on the website for you to explore.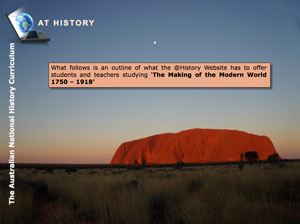 OUTLINE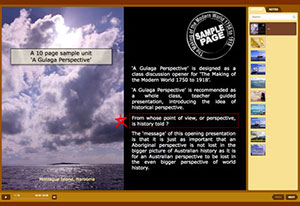 1. A Gulaga Perspective
A classroom discussion opener for the whole course introducing the idea of historical perspective.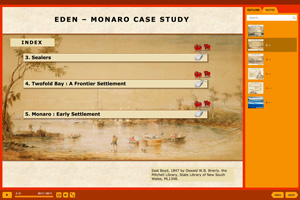 2. Eden-Monaro : First Contacts Introduction
This sample unit from an extensive Eden-Monaro Case Study introduces students to one of the most controversial aspects of colonial Australian history. Should the terms 'invasion' and 'conquest' be used to describe the 'settlement' of Australia' ?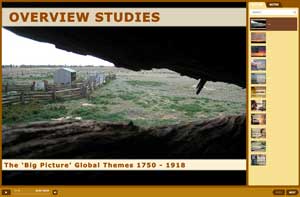 3. An Introductory Overview to the whole course. Designed to introduce students to the world of the late 18th century through maps, people, events and the big ideas that were to shape the world of the 19th and early 20th centuries. The Introductory Overview is presented in over 30 different units made up of approximately 360 computer screens. For the purposes of this sample just one unit, 4.2.6 The 'Big Picture' : Global Themes 1750 – 1918 has been selected. This unit contains an introductory overview to the global themes of this course, plus more detailed extensions. (116 screens )
4. An Example of an Overview to a major topic. Every Chapter and Topic has an introductory overview. This sample is for the Industrial Revolution and is designed for classroom discussion and teacher explanation.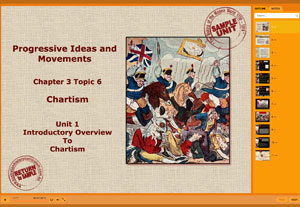 5. An example of an overview to a Unit within a major Topic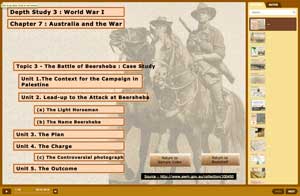 6. A Topic from Australia and the War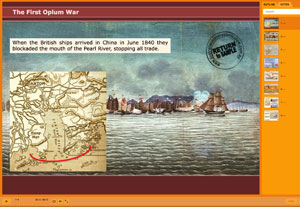 7. A unit on The First Opium War from the larger topic on 19th Century China